3. May 2016
Each one of my collections has its own story. The newest is not an exception.
Even before my daughter Mileva was born I had the idea of creating something extraordinary – dedicated to her. To create a collection filled with all my love and expectation, which in that time resounded in me with every breath. I have to admit that in the end it turned out differently and final form is not exclusively my piece of work, expression of my feelings alone. Neither an accidental flurry of creativity nor a sign given by the Muse are in charge of its origin. The sign came from someone quite different…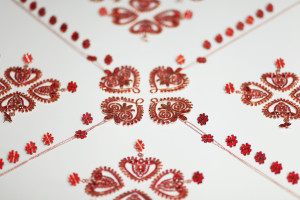 In atelier I have a wall of inspiration made of pictures of original Slavic folk costumes. Although I spent a lot of time in front of it, I had no idea which way to go, how to continue. Right in the moment when I looked at the embroidery of Čataj I felt the movements of little Milevka for the first time. That moment was so magical, it gave me no choice. This way I actually indirectly chose what was close to her and that is how the whole collection became a heart and soul to me. Literally. Finally it resulted in the shape of the jewels. Since thanks to Mileva we were soon becoming a family, whole collection was composed with an ancient Slavonic symbol of the family protection "Perun´s flower". Likewise I could not omit the spiral of life.
For all these ideas I am thankfull to her, Mileva. During the entire creation of the Mileva collection, she was going through the feeling of harmony and peace, which till now fills me with inexpressible joy. And of course I must mention that Milevka is properly proud of her piece of work. She is not fascinated by anything than by the jewels of HER collection, otherwise very calm child, however at the same time nothing can make her so sad as its loss. What do you think, does she really feel and is aware of the fact that I dedicated this collection to her and her name?