12. February 2016
Famous Slovak jewellery designer Petra Toth introduced her new collection named Mileva. At the occasion of launching in impressive premises of Luxury Hall in Bratislava we asked her a few questions.
Petra, your production is generally characterized as inspired by Slovak folk art, traditional ornamentation with the usage of Slavic symbols. However, your modern interpretation of jewells in Mileva collection in which dominates the symbol of the heart does not look outdated at all, but rather it is very fresh, full of love and tenderness. Can you tell us something about its formation and name?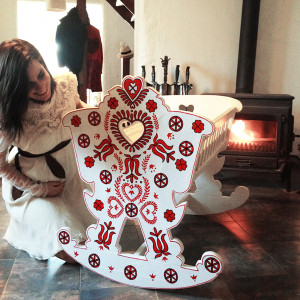 Yes truly, this collection is "very close to my heart". Practically whole process of designing this collection up to the production was in duration of all nine months of my pregnancy till the birth. I spent that time in absolute harmony with expecting the most beautiful day a woman can experience, a birth of her child. That is why this collection is named Mileva – a name of my daughter. It is of an Old Slavonic origin and means beloved-loving.
At first sight the collection is significantly different from your previous collections which were also in the spirit of traditions. Which materials were used to make the jewells and where did you seek inspiration?
Mileva collection is different because of several reasons. Concerning visual aspect I used rose gold plated for the first time together with combining matt and glossy surfaces. Although Old Slavs used silver in jewellery production, my intention is not to produce jewells in rustic form but rather to make them in the spirit of modern times and fashion. Technologically jewellery production is a complicated process of lost-wax casting method using brass alloy and afterwards manually set with red bohemian crystal. Pertain to the source of inspiration for this collection, that is really an interesting story.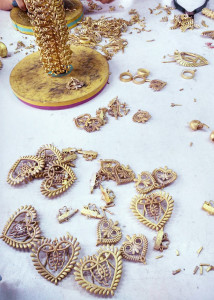 In atelier I have many pictures of original folk costumes, ribbons, embroidery which I use as a source of1-2 inspiration. In the first months of pregnancy I had several semi-finished drafts with the motive of heart, but at that time I still did not have definite concept in what spirit will be the whole collection. I will never forget the day when I was sitting in the atelier and right in the moment when I was holding a picture of traditional embroidery from Čataj in my hand, I felt the first movements of my baby in belly. That moment was so unbelievably touching and symbolic that I could not "use other means of source".
Your production is full of symbolism and campaign you are coming with to this collection is very noticeable. At social media you sparked off a very interesting debate which was held in nothing but superlatives. What was your intention of presenting very emotionally looking old woman as a main motive of the campaign?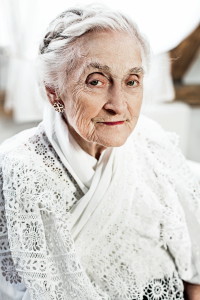 Campaign is actually an image of the spiritual legacy of the whole Mileva collection which is about harmony and maintaining the real family values. In the campaign allegorically expressed by two seemingly incongruous characters, we can see the clash of generations. On one hand a character of grandma in whose eyes we see the whole life she went through with all experience, victories and failures, with all that sadness and happiness of life and on the other hand a character of "her granddaughter" beautiful young lady who has the whole life ahead of her. It´s about the legacy of passing on, not just the traditions but life experience which traditional embroidery symbolizes.
Let´s go back to the specific ornamentation and symbolism of the jewellery in Mileva collection. What is in actual fact the meaning of these symbols?
Generally known and main motive of the heart probably doesn´t need to be explained particularly, perhaps only few words to the red colour which I used in jewells in the form of bohemian crystal. Red is the colour of affection– in ancient Slavic means a higher level of love, it is the colour of beauty which protects against all the evil. Classic symbol of the four leaf clover brings luck and love, its four leaves in the shape of little hearts symbolize four elements – fire, water, air, earth. In the Middle Ages it was placed behind the door, on the door, windows, bed to protect the house, luck and health. One of the most interesting symbols in Mileva collection is the spiral artfully set in the shape of heart. Spiral of life symbolizes the journey of a soul. And the last but not least we have here one of the most powerful symbols "Perun´s flower" known also as Perun´s cross, Perun´s star or rosette…is a symbol of family. Wearing of this symbol gives the ability of mature understanding of the things back then hidden. For us it is a symbol of higher cognition, finding the inner self, dedication and transformation into a new person.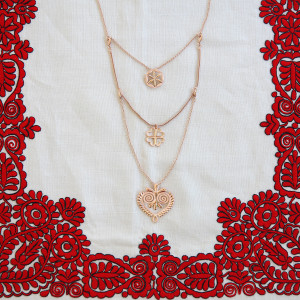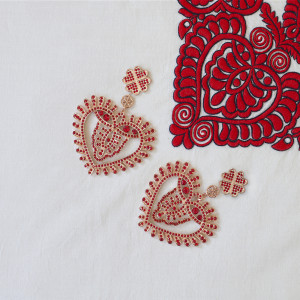 Very interesting and inspiring indeed, what kinds of jewells can be found in this collection?
From my point of view the most complete collection I have created so far consists of 11 pieces of solo jewells, which can be perfectly combined with one another into interesting sets. Collection includes 5 types of earrings in different size, 5 types of necklaces one of which is even variable in three different forms. This necklace is actually composed of three shorter solo necklaces with pendants which you can arrange as you wish. The last piece of collection is a bracelet full of symbols connected with chains.
Social media and internet dominate the present times and as time goes on your personality became certain social phenomenon in Slovakia, many people get inspired by your story and the amount of admirers of your jewells is growing rapidly, how do you feel about this fact?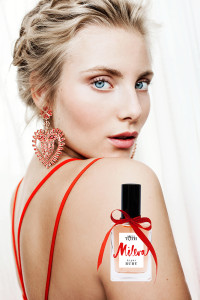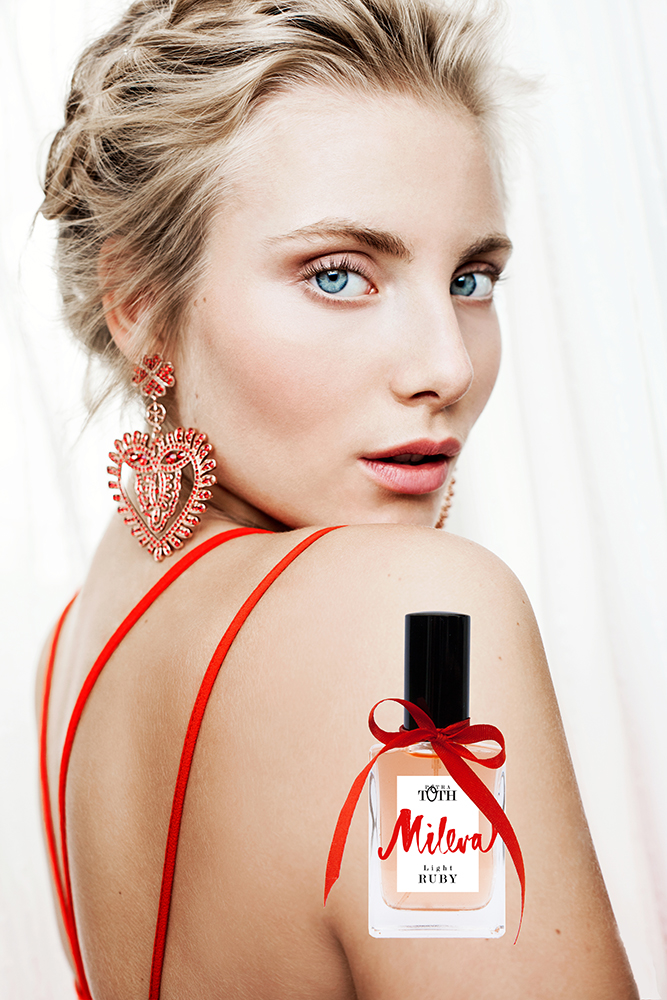 Umm, I must admit that I have never been asked such a question, but yes, regarding this something did happen over recent years. Almost daily I receive delightful messages and emails and even handwritten letters, which is unbelievable nowadays, how my story of "a little girl whose dream to become a jeweller came true" inspires people. More and more are interested not just in my production, but my lifestyle and my ideas of life too, which give them the strength to move forward and not give up. You know, from my opinion, firstly it is a huge responsibility to be an example for people and with my own personality and creation to try to outline the sense of what really matters in life. It is a mission. And this fact was also one of the reasons to present my own perfumes in the Mileva collection, which characterize my view on life through other senses than just sight. Their intensity of scents is ravishing, they literally attract the attention. Scent of jasmine, vanilla and cedar finely combined with the scent of pine needles, ginger and cognac prevail in passionate and truly exciting "Light Ruby" which literally reflects my Slovak temperament. While on the other side beloved "Rose Gold" brings special freshness and purity in which dominate gentle scents of roses, lilac, lilies of the valley and lavender. Simply jewells and perfumes of the Mileva collection go together well with every woman who feels the inner strength to change her own destiny, just as me.
Wow, Petra, thank you for this amazing and inspiring dialogue, we are enriched with information and mainly emotions which we will keep in mind for a long time.